2021 update — YAY!!! SHOWS!!!
TUESDAY, JULY 27th  -  I'm curating an online show for the "Music My Mother Would Not Like" series, a great little series hosted by Bruce Swan and Louise Baker.  My guests will be two marvelous songwriters, Rj Cowdery and Jono Manson.  It's a free Zoom concert that requires registering … I'll post the link here as soon as I have it
 
THURSDAY, SEPTEMBER 9th - Heading to my first Missouri concert, the Old Home Place concert series in Buffalo, Missouri …details TBA
FRIDAY, SEPTEMBER 17th  -  Playing a rare live show in Austin, Texas at the New World Deli … special guest TBA
to be rescheduled - COVID
SATURDAY, SEPTEMBER 18th  -  Playing Pam and James Johnson's house concert in Galveston, Texas
to be rescheduled - COVID
FRIDAY, NOVEMBER 5th. -  Los Angeles, CA - Severin Browne's First Friday show (VIRTUAL)
SATURDAY, NOVEMBER 6th. -  Kagel Canyon, CA - Coddy Nuckols "Live at the A-Frame" series
SUNDAY, NOVEMBER 7th - Shell Beach, CA - Songwriters at Play, private house concert
WEDNESDAY, NOVEMBER 10th - So Pasadena, CA - Brad Colerick's Wine and Song series
FRIDAY, NOVEMBER 12th - HAPPY BIRTHDAY TO ME (Los Angeles celebration TBA)
I will post details on all these shows when I have them
2020 update
yeah, Covid 19 sure puts a dent in things ...

2019 update
OK, then, the new album, if you fall, has been released in Italy and is already making some noise.  My cover of Francesco de Gregori's Rimmel has already been featured on RAI, Italy State TV and continues to get airplay around the country. I will be on a plane in two days for a three week tour with my Italian band, Paolo Ercoli.  Can't wait to get back there.  There will be another set of dates in Texas later in the year and in December the tour heads to Florida.
Here the Italian dates ... yup, it's a hell of a life!!!!
9 DE GREGORI SHOW - TORINO
10 VAIRANO (SWISS) - CAMPAGNOLA
12 SOMMA LOMBARDO (VA) - PIAZZA POZZO
13 MOCONESI (GE) - CALIGOLA
14 PIAN DI SCO (AR) - MACELLERIA BUCCIANTI
16 SUVERETO (LI) - ESTATE NEL BORGO
17 MILANO - SPIRIT DE MILAN
18 CANTU (CO) - CORTE SAN ROCCO
19 GROSSETO - PODERE 684
20 MARINA di MASSA - THE SECRET GARDEN
21 TERNATE (VA) - BUSCADERO DAY
22 CASTELVETRO (MO) - LAMBRUSCHERIA
24 FIRENZE - TEATRO DEL SALE
26 GIGLIO PORTO (GR) - DA RUGGERO
27 GIGLIO CASTELLO (GR) - FRASCA DELL'ALTURA
28 PASSOCURO (ROMA) - LAMPARA
29 VASTO - ViA ADRIATICA
Hey, all
well, here we are in 2018 and the fun continues ... (man, i'm a lucky guy)
Here's an update on some upcoming shows looking into the summer
  May 11 - Tucson, Arizona - Borderlands
  May 24 - June 4 - I'll be in Kerrville, Texas for my annual visit to the Kerrville Folk Festival.
    May 25 - I'll be hosting the Ballad Tree on Chapel Hill from 3:00 til 5:00
    May 26 & 27 - I'll be one of the judges of the New Folk competition along with BettySoo and Pierce Pettis
    May 28 - I'll be playing a mainstage set with guitarist Jack Williams at the Threadgill theater, splitting the evening with old friend Joe Jencks
   July 4 - back to Southern California and a set in South Pasadena at Brad Colerick's "Wine and Song" showcase
   July 6 - N Hollywood - Kulak's Woodshed - First Friday with Severin Browne
   July 8 - Paso Robeles, California - Sculpterra Winery - Songwriters Showcase 2:00 PM
   July 8  Pismo Beach, California - Puffers of Pismo - 5:00 - 8:00
   July 9 Morro Bay, California - Morro Bay Wine Seller - 6:30
   July 10 Morro Bay, California - Morro Bay Wine Seller - JACKSON BROWNE TRIBUTE
   Aug. 26 - Providence Folk Festival
   Sept 23 - New Braunfels, Texas - NB House Concert
2017 ended on an absolutely delightful note, the tour of Italy with Paolo Ercoli and Radoslav Lorković was a big success ...
Big thanks to Andrea Parodi, Pomodori Music and Appaloosa Records ...
More good things are coming together ... later this week (Thursday March 1) I'll be recording a segment of Art Fusion radio show recording at Artisan's Santa Fe store on Cerrillos Rd for broadcast on the 3rd. Stop on by and say hello!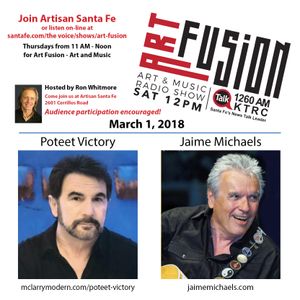 I'm back in Santa Fe now writing a new album tentatively titled "Carnival Town" ... the songs are coming along ...
Also spent some time this week in Jono Manson's Kitchen Sink Studio recording a cover of Townes Van Zandt's "Snowing On Raton" for a Townes tribute album coming out this spring in Italy on the Appaloosa label ...
 
Here's a pic from the session ... Terry Allen and Jono were recording tracks, too ... Mark Clark on drums, Jon Graboff on pedal steel and Ronnie Johnson on bass ... a great time!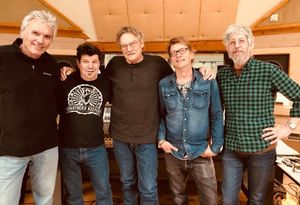 More news coming soon about gigs, festivals, a return to Europe, new songs and a new blog called "one boy's radio ...


Looking forward to my annual trip to the Kerrville Folk Festival.  I will be there for a couple of weeks hanging out with the usual suspects at Camp Nashbill. 
I will be hosting the Ballad Tree (on May 25th) ... I'll also be one of this year's New Folk judges (only minorly nerve wracking) AND i'll be appearing in concert on May 28th at the festival's Threadgill Theater with my buddy Joe Jencks ... youwza!!!!!
I will be the featured musician on an episode of the Art Fusion Radio Show in March ...
Heading over to Arizona in early May for some dates
And this fall i will be doing some Texas dates with one of my favorites, Rj Cowdery
and so it goes ...